FIRM OVERVIEW

 Founded in 1979, Kiuchi Patent & Law, a patent office in a wide variety of services, has provided full range of intellectual property services such as patent and utility model applications and investigations, on the technical fields of computer, machinery, electrical machinery, and chemistry, along with services for design rights, trademark rights, and copyrights.
Kiuchi Patent & Law is widely experienced in international affairs such as international applications in various kinds of countries.
Kiuchi Patent & Law has also provided various ranges of industry property services, such as litigation proceedings, negotiations regarding licenses, drafting contracts, and warning letters.
FOOTWORK
 Well-experienced patent attorneys of Kiuchi Patent & Law prepare application documents promptly and accurately according to your requirements. Application documents can be offered not only by meeting with engineers, but based on your basic handwritten memos, drawings or photos.
TEAMWORK
 Skillful technical assistants of Kiuchi Patent & Law assist our patent attorneys. We are proud of good teamwork to handle a large number of applications accurately in a short period, which we believe is helpful to promptly distribute your new products and successfully close the fiscal year.
 Further, efficient attorney at law of Kiuchi Patent & Law handles infringement suits and negotiations on license agreements, working in partnership with patent attorneys.
NETWORK
 Kiuchi Patent & Law, with a broad network with local agents in foreign countries, has provided international affairs and applications to and from foreign countries.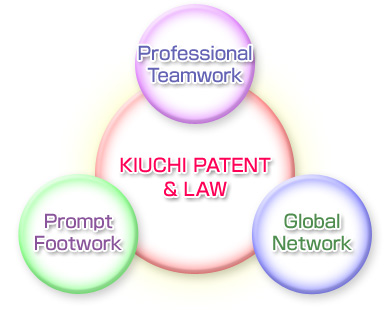 AREAS OF PRACTICE
1.PATENTS & UTILITY MODELS
Consulting for applications
Consulting for strategies on your intellectual property rights including application strategy and protection strategy
Consulting for contracts on patents and utility models including license agreement
Searching prior arts and possibility of infringement on patents
Supporting for all procedures from applying patent application to obtaining patent right, proposing reply and managing due date for office actions for patent and utility model applications
Managing due dates for annuity and paying annuity after rights are granted
Representing and supporting for appeal trial, suit against appeal trial decision, and infringement suit on patent rights
Framing negotiation strategy regarding contentious cases and negotiating on license agreements
(Technical Fields)
Heavy electrical: Transformer, Gas insulated switchgear, Fuel cell, Laser oscillator, High voltage equipment
Mechanical: Acoustic device for vehicle, Railway maintenance apparatus, Radiation detector, Tester for electrical equipment
Electrical: Image processing, TV game device, Navigator, Solar cell
Software: Computer program for industry, Programming tool
Chemical: Capacitor, Organic material treatment, VOC removal
Others: Household articles, Commodities, Healthcare equipment, Toy
2.INTERNATIONAL AFFAIRS
Applications to and from foreign countries, for example, applications claiming priority under the Paris Convention, international patent applications (PCT) and international trademark applications (Madrid Protocol) and national phase applications based on PCT applications
Countries previously worked with:
Argentina, Australia, Brazil, Canada, China, France, Germany, India, Indonesia, Korea, Malaysia, Russia, Singapore, U.K., Ukraine, U.S.A., Taiwan, Thailand and Vietnam
3.DESIGNS & TRADEMARKS
Consulting for application
Consulting for strategies on design and trademark including application strategy and protection strategy
Consulting for contracts on designs and trademarks including license agreement
Searching prior registration and possibility of infringement on designs and trademarks
Supporting for all procedures from applying application to obtaining right and proposing reply and managing due date for office actions for design and trademark applications
Managing due dates for annuity and paying annuity after rights are granted
Representing and supporting for appeal trial, suit against appeal trial decision and infringement suit on design and trademark rights
4.COPYRIGHT
Registering copyrights
Consulting with expert opinions for infringement suit on copyrights and its related rights
Advising legally and supporting for settlement of contentious cases
Representation and support for infringement suit on copyrights and its related rights
Consulting and negotiating for assignment and license agreement on copyrights and its related rights
Drafting contracts on copyrights and its related rights